The Pedagogy of Confidence™
"Change the input and the brain changes accordingly."
—Reuven Feuerstein

"Give light and people will find the way."
—Ella Baker
Pedagogy of Confidence Action Guide online at www.pedagogyofconfidence.net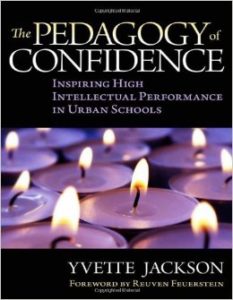 Yvette Jackson shows educators how to focus on students' strengths to inspire learning and high intellectual performance. Jackson asserts that the myth that the route to increasing achievement by focusing on weaknesses (promoted by policies such as NCLB) has blinded us to the strengths and intellectual potential of urban students–devaluing the motivation, initiative, and confidence of dedicated educators to search for and optimize this potential. "The Pedagogy of Confidence" dispels this myth and provides practical approaches to rekindle educators' belief in their ability to inspire the vast capacity of their urban students. This book features: (1) Describes practical approaches and examples of how inspirational educators implement High Operational Practices, offering strategies for dealing with cultural disconnects, the influence of new technologies, and language preferences of students; (2) Illustrates how educators empower student investment in the "mediative learning community" to foster positive relationships; (3) Presents historical, cognitive, and neuroscience research, providing educators the rationale and benefits of changing old policies and practices to new ones that will guide students to intellectual development, self-directed learning, and self-actualization; and (4) Explores the theory and methodology of cognitive psychologist Reuven Feuerstein, upon which "The Pedagogy of Confidence" is based.
The Pedagogy of Confidence is an approach to learning and teaching that is based on the fearless expectation that all students are capable of high intellectual performances when provided High Operational Practices™ that motivate self-directed learning and self-actualization. These High Operational Practices are:
Identifying and activating student strengths
Building relationships
Eliciting high intellectual performances
Providing enrichment
Integrating prerequisites for academic learning
Situating learning in the lives of students
Amplifying student voice (Jackson, 2011, p. 71).
These seven High Operational Practices are the fulcrum around which the "gifted" education of the Pedagogy of Confidence revolves, gearing the objectives for each practice to facilitate students exploring and acting on their potential to produce the high intellectual performances that can motivate self-directed learning, self-actualization, and self-transcendence. The inherent strategies and actions used to identify and build on strengths, provide enrichment and create schema that connects to a student's cultural frame of reference inherent in "gifted education" serve to enhance comprehension that results in strengthened competence, confidence, resilience and high intellectual performances (Jackson, 2017).
Pedagogy of Confidence Action Guide online at www.pedagogyofconfidence.net
The Pedagogy of Confidence Leadership Action Guide is based on many years of research and collaborations with Reuven Feuerstein, with National Urban Alliance (NUA), with many other organizations and colleagues focusing on equity consciousness in the spirit of belief and belonging for all students and educators. The Pedagogy of Confidence is focused on recognizing and amplifying the strengths underserved students.
The goal of this action guide is to cultivate and sustain equity consciousness through The Pedagogy of Confidence. The Pedagogy of Confidence engenders robust communities of belonging in which students are gifted with High Operational Practices to inspire students' engagement and elicit their innate potential for high intellectual performances, self-determination, and personal contribution.
"Courage is not the absence of fear—it's inspiring others to move beyond it."
—One of Nelson Mandela's "8 Lessons of Leadership" (as reported by Richard Stengel)
The Pedagogy of Confidence Leadership Action Guide focuses on moving equity talk into equity walk with equity consciousness for student engagement — for all students. This begins with the teachers and school leadership: believing in the innate potential of each and every student for high intellectual performances and contribution; recognizing and eliminating practices that are barriers to students' potential thriving and flourishing; and committing to providing the pedagogy to elicit and cultivate that potential.
Pedagogy of Confidence Action Guide online at www.pedagogyofconfidence.net